Last night I used a vmware standalone converter to transfer 1 of my3 DC's. This 1 DC run windows 2000. It was the original DC, but for some years now we have transfered FSMO roles and features to newer generation 2003 dc's. The only fsmo role on this server is the Schema owner.
Since i lost my NIC configuration when i transferred the VM DC from one esxi host to a another, I was trying to configure my dns server like i had them before ( 127.0.0.1, 192.168.100.2) and i received this error:
I ended up configuring my other DC's as my dns servers. Since this transpired, the newly transferred VM DC (WIN2000sp4) is having AD replication issues. check out my replmon:

I used replmon yesterday before the transfer and witnessed that replication was ok. But for some reason the logs in this newly transferred DC does not show yesterdays replication dates. Instead, it shows way older successful attempts. Also, below are some event logs. most date older than yesterdays date as well. I am simply gathering the most recent ones.
Event ID 13559:
File Replication Service log
The File Replication Service has detected that the replica root path has changed from "c:\winnt\sysvol\domain" to "c:\winnt\sysvol\domain". If this is an intentional move then a file with the name NTFRS_CMD_FILE_MOVE_ROOT needs to be created under the new root path.
This was detected for the following replica set:
"DOMAIN SYSTEM VOLUME (SYSVOL SHARE)"
Changing the replica root path is a two step process which is triggered by the creation of the NTFRS_CMD_FILE_MOVE_ROOT file.
[1] At the first poll which will occur in 60 minutes this computer will be deleted from the replica set.
[2] At the poll following the deletion this computer will be re-added to the replica set with the new root path. This re-addition will trigger a full tree sync for the replica set. At the end of the sync all the files will be at the new location. The files may or may not be deleted from the old location depending on whether they are needed or not.
Another one from directory service logs from this morning: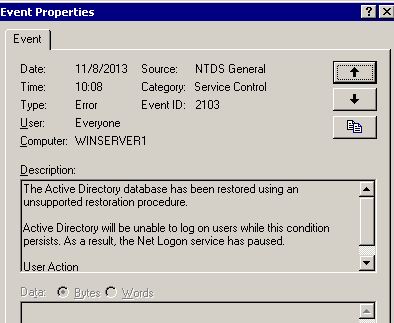 ..followed by an event id 1404 and 1308.
I have no clue as to how to continue to troubleshoot, but it would be wonderful if i can have this dc replicated with the others soon.
Any idea what could have caused all this to stop replication after transfer the VM to a different host, then powering on and assigning new nics?
thx
t