Hi Dear All,
I am using the following code to update ODBC connections for my existing tables.
See code at bottom.
However i grouped on the navigation pane all my tables, queries, forms on related groups .For example : ClientsTable , ClientEditForm is grouped under CLIENT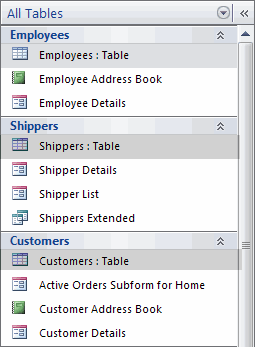 When i relink all tables with VBA code, all this formatting is lost , and relinked tables goes to Unassigned objects,
Is there anyway to prevent this ?
Sub ReLinkAllTablesFromMsSql()





'Returns all linked tables




    




    Dim tdf As TableDef, db As Database




    Set db = CurrentDb




    db.TableDefs.Refresh




    




    For Each tdf In db.TableDefs




        




        With tdf




            




            If Len(.Connect) > 0 Then




              





                             If InStr(.Connect, "SQL Server") > 0 Then




                             '.Attributes = DB_ATTACHSAVEPWD




                                NewConnectionStringDatabase = Null




                                NewConnectionStringDatabase = Left(Right(.Connect, Len(.Connect) - InStr(.Connect, "DATABASE=") - 8), Len(Right(.Connect, Len(.Connect) - InStr(.Connect, "DATABASE=") - 8)) - 1)




                               NewConnectionStringDatabase = "ODBC;DRIVER=SQL Server;SERVER=SERVERNAMEHERE;Database=" & NewConnectionStringDatabase & ";Trusted_Connection=True;APP=2007 Microsoft Office system;"




                               .Connect = NewConnectionStringDatabase




                               .RefreshLink




                             End If





             End If




        




        End With




    Next




    




    




    




    Set tdf = Nothing




    Set db = Nothing




End Sub