I have a simple web part page that has a list view webpart at the top and then two "Insert Related Lists" web parts/lists/views lower down the page. All works fine.
What I want to get around is the annoyance of all the clicking you do to see the related lists reflect the top list.
Currently you have to click on eth Silly "Arrows" symbol to be able to change the Selected row so tha the related lists show correctly. Click anywhere else on the top list and it sets the tickbox status of the row clicked on to either ticked or not ticked BUT does NOT changed the selected item for list relationship viewing.
Hope that makes sense?
A "Selected Row"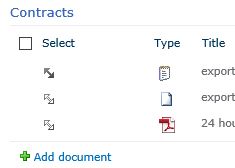 A Ticked row but not the Selected row!