hi Folks
i just got my second E72 and the first thing do after upgrading the firmware was to configure my Gmail account with Mail For Exchange (MFE). unfortunately, this common task was always failed due to following error (as shown in the attachment):
Mail For Exchange

Your account does not have the permission to synchronise with current settings. Contact your administrator.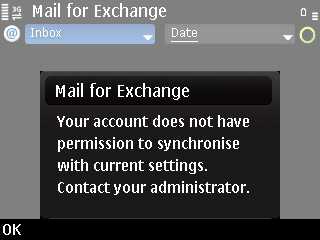 as the result, no any email could be downloaded.
i have made sure that all settings were the exact same as those on my first E72. it should not be a network issue, as i could configure the other email accounts with no any problem.
i thought it might be a license issue that only one handset can be associated with the Gmail account, so i removed MFE from the first E72 and reconfigured everything on the second E72. it did not help at all.
it should not be a server side issue too, as i could sucessfullyy re-add MFE on the first E72, and it has no problem after reconfigured. all emails could be downloaded in a few minutes.
all E72 have been updated to the latest firmware which is 091.004.C00.01.
what's the problem here? can I enable MFE on multiple E72s for the same Gamil account?
thanks heaps
bbao