Hello Experts,
We have Exchange 2010 SP3. All roles installed on a single server. I am trying to create a new global address list but I am receiving the error.
[PS] C:\Windows\system32>New-Gl
obalAddres
slist "ORGA" -ConditionalCustomAttribut
e2 "ORGA" -Incl
Recipients "AllRecipients"
WARNING: One or more global address lists were missing from the Active Directory attribute. This is likely caused b
using legacy Exchange management tools to create global address lists.
Active Directory operation failed on dc1.domain.COM. This error is not retriable. Additional information: The nam
eference is invalid.
This may be caused by replication latency between Active Directory domain controllers.
Active directory response: 000020B5: AtrErr: DSID-03152804, #1:
0: 000020B5: DSID-03152804, problem 1005 (CONSTRAINT_ATT_TYPE), data 0, Att 907ff (globalAddressList2)
+ CategoryInfo : NotSpecified: (0:Int32) [New-GlobalAddressList], ADConstraintViolationExcep
tion
+ FullyQualifiedErrorId : E9442825,Microsoft.Exchang
e.Manageme
nt.SystemC
onfigurati
onTasks.Ne
wGlobalAdd
ressList
I found similar problem on Microsoft Technet.
http://social.msdn.microsoft.com/Forums/en-US/3210af54-d8b4-490f-9f5f-f4fc3209d324/newglobaladdresslist-fails-ad44a06f?forum=os_exchangeprotocols
Here is the suggestion
Open up ADSI.msc, then add in configuration.
Expand Services and right-click CN=Microsoft Exchange and select properties
Check all the GAL's listed in globalAddressList and globalAddressList2 are valid.
I did that and I found the entries as shown below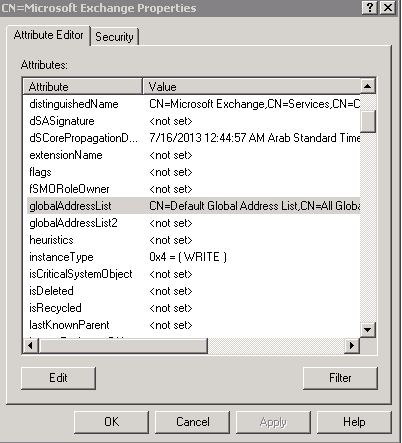 But I am afraid which entry to be deleted.
I would highly appreciate any help.