I've been trying to figure out how to go about completing what I perceive to be a rather complex cell operation involving finding a duplicate entry and then performing an operation on said duplicate entries within the sheet.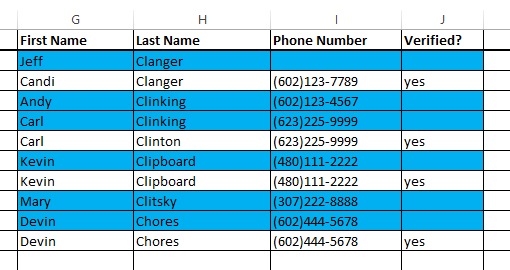 From the screen shot listed above, what I'm looking to try to accomplish is finding the duplicate 'blue' entry of the 'verified' 'white' entry. In other words, 623.225.9999 is a verified phone number. I want to set up a script of some kind to find it's accompanying entry in blue (in this case, right above it, but it won't always be that easy), mark that number as 'verified' (i.e, the J column will say 'yes' like it does in the white cell), and then delete the white row altogether.
I've tried using conditional formatting but that doesn't automate the process. I've also tried advanced filters thinking I could take the results of a unique filter and dump it into a second sheet and continue doing operations there, but the end result is I can't copy those results into a separate sheet, nor does that help me automate the process.
I'm sure there are easier ways to do this, perhaps in Access, but if I can I'd like to keep it in Excel. Of course I'm not completely rigid in this regard.
I appreciate any and all feedback!