Hello,
In MS Office (2013), there is a Quick Access Toolbar (QAT) command titled "Accents" which, when opened, displays a number of the different symbols which can appear atop various letters in the alphabet: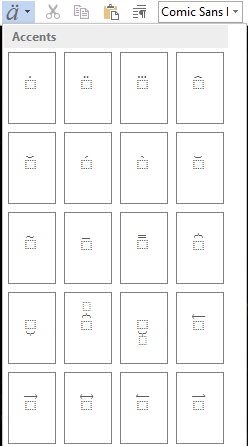 As shown, each symbol resides above a small dotted-lined box which I assume indicates the position to be occupied by the underlying letter.
My question is: How do you insert a character into the box?
For example, in medical charts, it is common to replace the words "post", "after" or "following" with a small case "p" topped by a horizontal overbar:

I have tried several different ways and sequences to combine the "p" with the overbar but cannot get it to work. The box with the overbar always ends up before the "p" or after it.
Any illumination regarding how to correctly apply these symbols would be greatly appreciated.
Thanks