Hi,
I have the following query:
SELECT pm.Name AS Method, pmt.Name as TypeName,
         Sum(Amount) AS Total
FROM Payment p
inner JOIN PaymentMethod pm ON p.MethodID = pm.ID
left JOIN PaymentMethodType pmt ON pm.ID = pmt.PaymentMethodID
WHERE p.ID > 0
GROUP BY pm.Name, pmt.Name
ORDER BY pm.Name
It gives me the result below: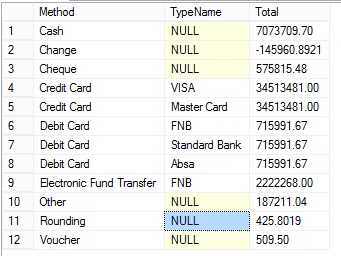 I would like to split the total by typename. Any ideas on how I may proceed from here?
Thanks!