I set up a Windows Server 2008 R2 as a print server on our domain.
All 30 printers have been installed and shared.
On the clients I can view all of the printers on the servers IP. I could then connect and install them on the client machines successfully.
I wanted to make it simpler by using \\printers so I set up an A record to point to the Server IP. This worked and entering \\printers sure enough shows all of the printers listed. But as soon as i tried to connect / install I am getting the following error??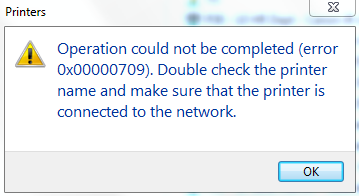 "Operation could not be completed (error 0x00000709) Double check the printer name and make sure that the printer is connected to the network"
I have scoured some forums but with little success.
Any help will be much appreciated.
BF