I can't close the mail application without Forced Quit. Once I reopen, I get any new emails in the mailbox. When I click to retrieve more emails or my automatic email retrieval kicks in I don't get any new emails, just the spinning wheel.
Then once again, I force quit and re-open and I may or may not have new emails in the box, but spinning again until force quit.
It's driving me nuts and just started doing this 4 days ago. I first noticed it right after a friend sent me an email with two humongous photos of her cat attached.
It's my business email. So this sucks!
I'm on a 6 year old Macbook Pro, OS 10.6.8, Mail version 4.6.
I'm pulling email off of my server from my shared hosting account at Site5.com. Other email address in subdomains are not having this problem. In other words, I have two accounts in Macmail from the same domain and only one is giving me a fit.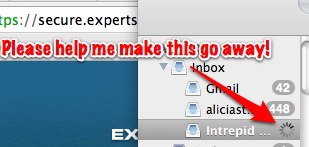 Thanks so much!