I am trying to identify what is causing a problem in Internet Explorer on a simple form.
Here is the very simple form I'm using.
<!DOCTYPE HTML>




<html>




<body>




<form class="form" id="signup" method="post" action="index.php">




Password <input id="passwd" type="password" name="passwd" value="existing"  /><br />




Confirm <input id="pw_confirm" type="password" name="pw_confirm" value="existing"  />




</form>




</body>




</html>



What is happening is that on Chrome this form works fine and the two password fields both have the dots filling the field to hide the data.
But when I open this form in Internet Explorer, the password dots for the second field, "pw_confirm" do not show.
Then the strange thing. If I add a third password field, called filler, the dots all of a sudden appear in the "pw_confirm" field.
I've cleared my cache. I've set them all to "text" to see if the value is carrying over (which it is). I've flipped around the order. But no matter what I do, in IE I cannot get the pw_confirm to show unless I add the third.  
If I flip the order around, then the "passwd" field skips the dots.  If I go to a single field, then they show.
So the bottom line is that when you put two password fields one right after the other in internet explorer, the second doesn't show.
Any insight into why this is happening would be appreciated.
The following two images show how my IE browser is behaving.
Note, although the pictures show the two paragraph tags, I've replaced them with a break and it still misbehaves.
The file showing the error.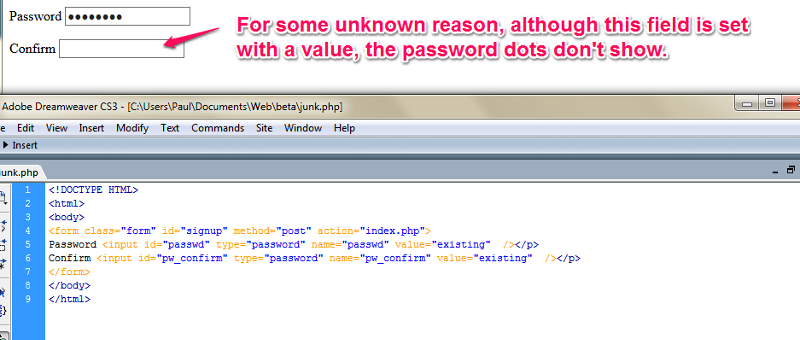 The file showing the no error.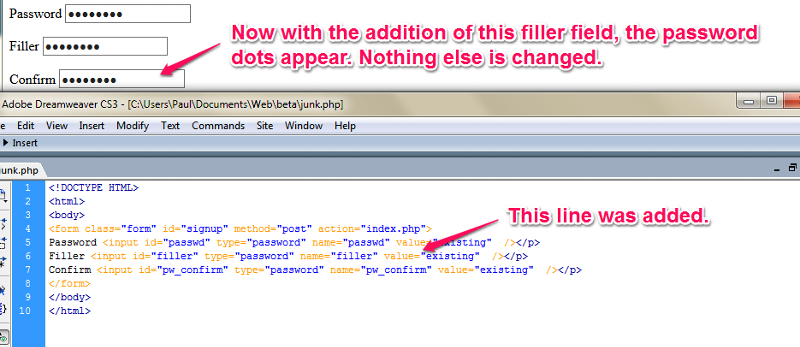 I'm running IE 11.0.9600.16428.