Hey All -
I've got a weird, nagging issue which I've never run into before.  For the past week or so, I've been unable to create folders on any of my partitions / disks in Windows.  Below's all the detail:
Issue
1. In Windows Explorer, I choose to create a folder in the root of any drive, folder, etc
2. I type in the name I wish for it to be and hit enter
3. I get the error below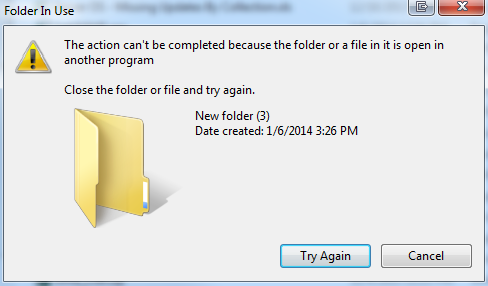 4. Trying again does nothing - but - cancelling creates the folder yet as "New folder (x)"
So... it creates a new folder - which is usable - but I can't rename it.  Weird!
What I've Tried So Far To Fix:
- Tried creating a folder in DOS / Command Prompt in same paths - it works!  Windows still doesn't
- Installed Unlocker to see which process had it.  Unlocker said none did and let me rename / delete at will.  Still couldn't without it, though
- Looked through event logs - nothing
- Closed out of all apps except what was required - still occured
I'm sure I could uninstall apps until it worked, but would rather post and see if anyone has another suggestions first.  I know it's not security because the folder does create and work.
I'm running Windows 7 x64 - Updated through last month's patches.
Any Ideas?  Thanks!