Hi All
We have an exchange 2010 setup consisting of 3 mailbox servers in a DAG and a 2 node HT / CAS NLB that is all based at our London HQ (which is where i am based)
We also have a branch server in our Hong Kong office that is a single server running the HT / CAS / Mailbox roles, although currently it has no mailboxes as they are all still on databases in our DAG
When i open outlook on some machines i have noticed that about 30 seconds to a minute after the profile has connected i get a security alert telling me the security certificate was issues by a company you have not chosen to trust, an its referencing the standalone exchange server we have in our HK office.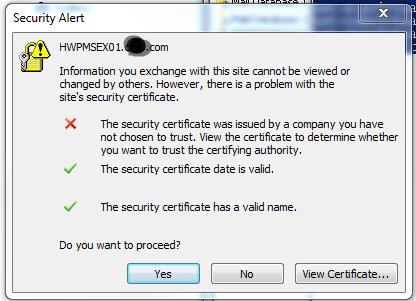 I can't work out why it would be trying to connect me to that remote server as there is nothing on it, i did an rpcdiag and verified for mail i am connecting to our NLB FQDN in london and for public folders i am also connecting to a mailbox server in London.
I have checked the OAB and that is on the 3 Mailbox servers in London
If i click yes to proceed everything works fine and i dont have any issues or get prompted for anything else until i have to restart outlook, i would just like to understand why.
Anybody have any suggestions
Thanks