Hi all,
We need to setup a reliable server to run our most critical software. We have spent some time researching and learning and by now the best option seems to be a vmWare cluster running virtual machines with Fault Tolerance feature enabled.
Besides, as we do not need big storage capacity at all for this software to run, vmWare's VSphere Storage Appliance comes up as the perfect choice to avoid installing an expensive hardware-based shared storage.
So, we come to the conclusion that we need a VSA cluster running the FT-enabled VM's.
From what we read in this document:
VMware vSA Installation and Configuration
we understand that our full setup would look like this: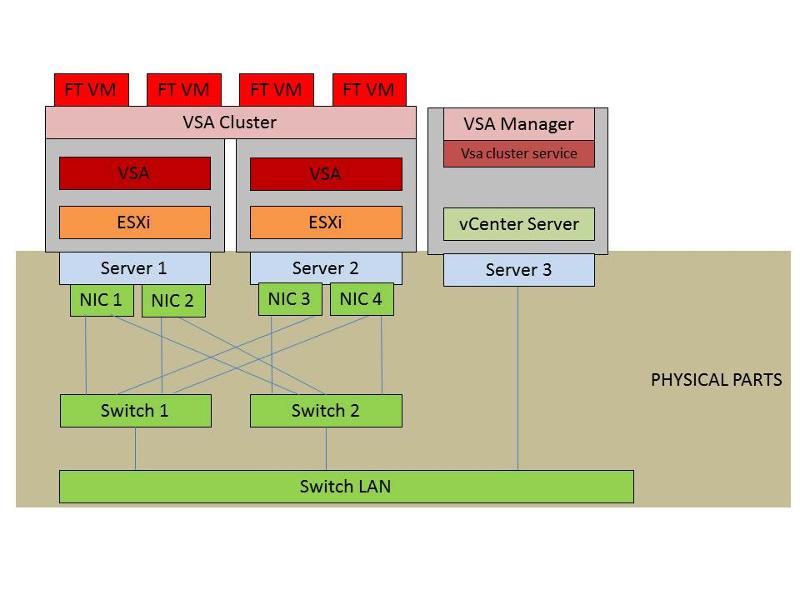 Is this scheme correct?
What happens if server 3 fails and VSA Manager and vCenter go offline?
Page 12 says Switch 2 is optional to achieve network redundancy but it seems Servers 1 and 2 must have two NIC's (with two ports) even if they're all connected to the same switch. Is that true?
If I decided not to use Switch 2. Could Switch 1 and Switch LAN be actually one single switch?
I thought that NICs 2 and 4 would connect directly with each other in the case of a 2-member cluster. Is this possible?
Thank you.
VMWARE.jpg