I have a laptop I just reformatted and set up a dual boot partition on it. Both windows 7 x32.
However one thing I noticed was everythign was quite slow. After looking at the memory I saw this:

I understand x32 can only utilize 4GB of memory, but why the heck is only 2.36 usable?
I've done nothing to the machine other than reformat it, memory is still good.
I've read something about video memory could cause it to lower your overall memory on a forums site, I don't know much about that particular issue if it even pertained to my situation. I did notice it's showing to adapters for some reason..my laptop only has one gpu, don't know why it's showing 2. I disabled one and that didn't give me my memory back.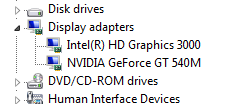 Any ideas how to utilize all or nearly all of my memory back again?