Hello!
Very strange behaviour here.... Here's the actual situation:
PC:
Notebook Samsung Ativ Book 8
intel core i7 3635qm
8Gb RAM
ATI Radeon 8870m
HDD SATA 1TB
S.O. Windows 8.1 PRO
Some time ago, I've installed the 8.1 update, and everything gone fine.
The problem is that I have the CPU usage clamped at 100% all the time. At least the task manager shows so... as if I go in the Processes tab none of them has high CPU usage.
The strangest thing is that process explorer shows normal CPU usage.
The PC has slowed down, so task manager is right....
I've even tried LatecyMon, wich has only USBPort.sys with high ISR and DPC count, but i think it's in the normal side.
Here's some screenshots: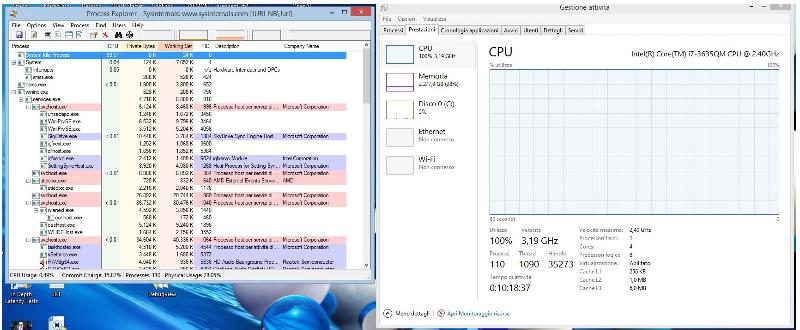 I think it could be a driver related problem (even if I hadn't updated nothing),
Could you please address me in the right direction?