Hi all
I have a client that has two separate XenApp 6 implementations.
The first XA6 system give users access to a Desktop as a published app. When a user logs into that system they get a set of network mapped drives. This is controlled by GPO Drive Maps: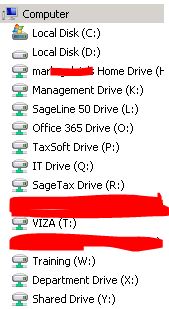 The second XA6 system gives them an application as a published APP. Once this application is open, the users have access to two more drives, on that second XA6 system. Again, these are controlled by GPO Drive Maps (please note the two XA6 system are in separate networks with separate Active Directory and besides accessing the application through a Citrix Access Gateway, the system are completely disconnected):

The setup is this:
Exactly as described in this Citrix article:
http://support.citrix.com/article/CTX127872
Now using the REG hack in the above I have managed to get the mapped drives from XA1 to appear in the XA2 system, giving the users access to the files from the first XA6 system.
What isnt happening (and the client really needs it to) is the drive labels that appear for all the network drives in XA1 to appear in the XA2 app. Instead what is happening is this: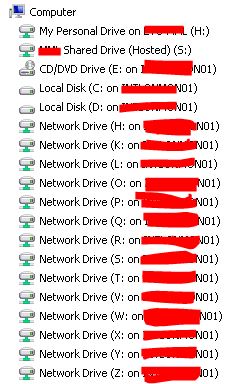 Any one out there know how to retain the labels in the second XA system?
Thanks
Mark