I have a pie chart showing total number of requirements in 3 different areas.
See attached image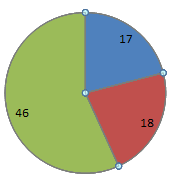 On the same pie chart, I would like to show the percentage completed within each area.
For example in A, there are a total of 17 requirements and 15 have been completed.
I want to show on the same pie chart (without changing the current shape), for A, ~88% will be highlighed while the remaining area will be shaded out.
How do I do this?
Many thanks.
Do let me know if you require further clarification.
I am using PowerPOint 2010 using standard Pie chart.