In PowerPoint 2010, I know how to set the color of an object to a theme color using VBA, for example:
myshape.Line.ForeColor.ObjectThemeColor = 4



But what is the correct way to set it to one of the shades of the theme color as illustrated in the palette below the theme colors themselves, for example the 4th color, 3rd shade down as circled in red?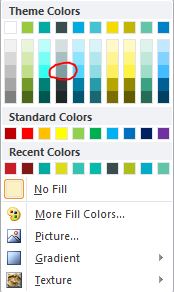 Are these shades directly addressable? If so, how?
Or do you have to use TintAndShade method? I tried that, but it doesn't seem to work for me.
Thanks.
shadeoftheme.JPG