Hi,
Can anyone help with this more than probably simple query!? I've have a few tables (example included) and a few forms built in Access. I'm looking a user to be able to input information into a form and an appropriate record created for the data inputted.
I've got tbl_Items and tbl_Location: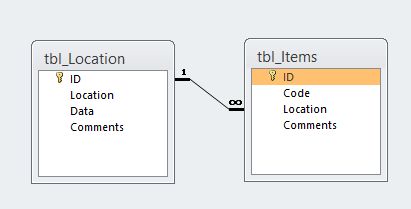 The User form allows a record to be created in tbl_Items if the location exists. If it does not exist, it throws an expected error:

.
I understand that because the relevant record doesn't exist in tbl_location, Access isn't allowing it, but is there anyway to avoid this, alert the user and have an option for the appropriate record to be created in tbl_Location at the same time??
Stuck for ideas on how I could implement this, so any advice is much appreciated.
John