Hello experts,
Losing my mind on this.
Have Outlook 2010 / Office 365, created a distribution group which I have send as permissions for.  The send as works fine
"From" Button in Outlook 2010 is enabled.  Currently there are 8 accounts in the From Button Drop down menu that I can send from.....
When adding the new distribution group as the "other e-mail address" (9th email address) , I go to the Online or Offline book and select it and can send from it fine, BUT...
My problem...
It (the dist. group email address) will not save in the 'From" button drop down list.
I keep having to go to OAB and select the dist group email that I want to send as.
Weird thing is if I create another profile in Outlook 2010 I can add the Dist Group and it will stick/save in the From Button drop down list.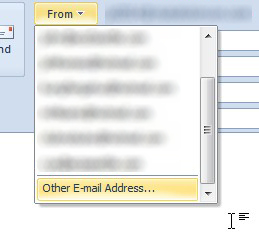 Yes I could stick with the new profile, but was hoping it was an easy fix.
Maybe there is a limit of 8 emails addresses for the from button?
Thanks!