Hello,
in order to get the data from an incompatible program with windows 7, i wanted to install XP on an empty IDE drive (maxtor 40 GB)
so i start from the XP SP3 cd (tested and fully working) - all fine till it reboots fort he first time - to start the 2nd phase of the install.
then it boots from the disk drive, and i get NTLDR missing
i tried fixboot, fixmbr, bootcfg /rebuild - without success here's the contents of the drive :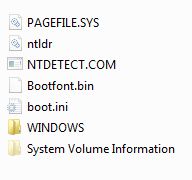 i even tried all of these :
Boot using the Windows XP installation disk, press R. Then type the following commands:
note : you can test after each command
FIXMBR
FIXBOOT
BOOTCFG /rebuild
cd\
copy E:\i386\NTLDR c:\
ATTRIB -arsh ntldr
copy e:\i386\NTDETECT.COM
ATTRIB -arsh ntdetect.com c:\
Why does it refuse to boot? what am i missing ????
plse don't suggest VM - i know that is still possible