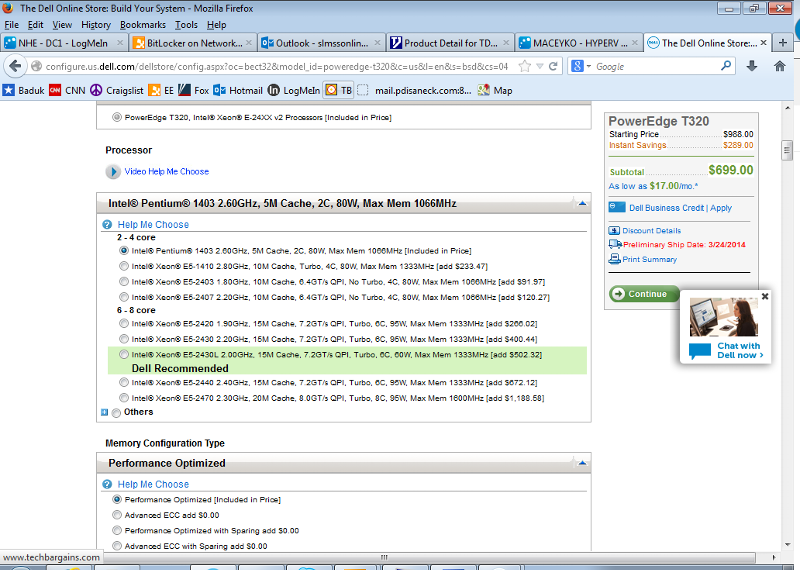 I am trying to pick the right CPU for two projects:
(1) 5 user network, mostly Word/Excel/Internet and one business related MS ACCESS database program (150MB in size, about 20 new records created daily, mostly existing record lookup). Server OS: SBS2011. RAM: 16GB.
(2) 7 user network, mostly Word/Excel/Internet and one big database business software that runs SQL (I don't have to have SQL server, it installed SQL express during install) with database size of 100GB (when all the files/documents/emails attachments are zipped). It is a law firm where they constantly insert new case records and update existing case info all day. There is an interface between legal software and Word/Excel/Outlook/Adobe Std., so these apps are constantly opened and closed from the legal software.
That said, when I tried to order DELL PowerEdge T320. I know I need some type of XEON, but there are many CPUs to choose from and I am not quite sure how much I need to spend on CPU. I don't want to overkill, but certainly don't want to hear from the users that "NEW SERVER IS SLOW". I am going to get 32GB of RAM and either thru Hyper-V/W2012 or VMWare ESXi V5.5 so that I can also setup Terminal Server.