Here's my setup:
TL-WN721N USB adapter. This uses:
goose@vaio:/tmp$ lsmod | grep ath




ath9k_htc              43082  0 




ath9k_common           12648  1 ath9k_htc




ath9k_hw              311433  2 ath9k_common,ath9k_htc




ath                    17114  3 ath9k_hw,ath9k_common,ath9k_htc




mac80211              171389  1 ath9k_htc




cfg80211              113445  3 mac80211,ath,ath9k_htc




usbcore               104555  7 ehci_hcd,uhci_hcd,btusb,ath9k_htc,uvcvideo,usbhid



My router is BT Home Hub 4 (Type A) | Software version 4.7.5.1.83.8.130.1.17 | Last updated 08/12/13 (the latest firmware)
This is its wireless config: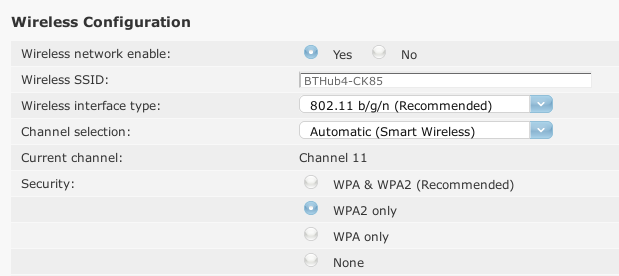 The problem is that the wireless connection drops frequently with the following coming up when that happens in /var/log/messages
Mar 10 08:54:34 vaio wpa_supplicant[2590]: wlan1: WPA: Group rekeying completed with cc:33:bb:12:a7:fc [GTK=TKIP]



I've got an idea what could be causing this but don't want to bias you diagnosticians by mentioning it. Even if i'm right, i'm not sure of a good solution.
What do you think can be done?