Good Afternoon,
We are in the process of setting up a KMS server, but for whatever reason we cannot activate our Windows 7 clients with it.
*Our KMS server is running "Windows Server 2008 R2 Enterprise SP1".
*The KMS server has been activated successfully with Microsoft using a CSVLK (KMS) key and it's status is saying "Genuine".
*We are using the "Volume Activation Management Tool (VAMT) v2.0.67.0" on our KMS Server.
*Using the VAMT we've added 30 "Windows 7 Professional" workstations to the tool.
*From the VAMT we've installed the product key using the "Install a KMS client key" option, which was successful on all 30 Windows 7 workstations.
When we attempt to activate the key with the KMS server, by right clicking on a workstation and selecting "Activate / KMS Activate" and trying both "Auto-Discover KMS host using DNS" and "Use specific KMS host and point", inputting the host name and the port.
We receive a message saying "The Software Licensing Service reported that the computer could not be activated. The count reported by your Key Management Service (KMS) is insufficient. Please contact your system administrator."
*We have confirmed that all of the workstations clocks are in sync with the domain and KMS Server.
*We have confirmed that all computers are using different CMIDs/SIDs.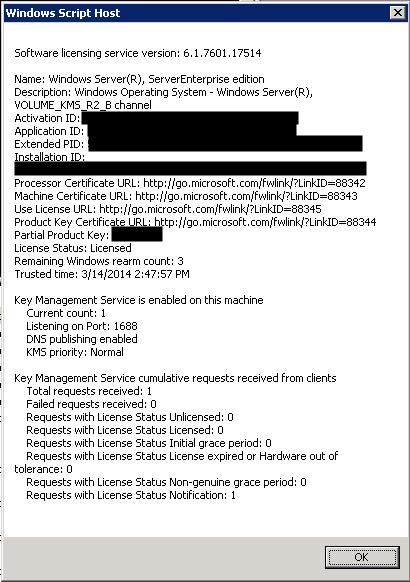 Does anyone have any ideas as to why this is happening with all of the information I have provided?
Kindly advise.
Regards,
N