I am using a 13-port hub to route various devices into one of the input ports of a second hub.
The second hub has a selector switch which allows me to direct the plugged-in device to one of two computers. Here's a graphic diagram: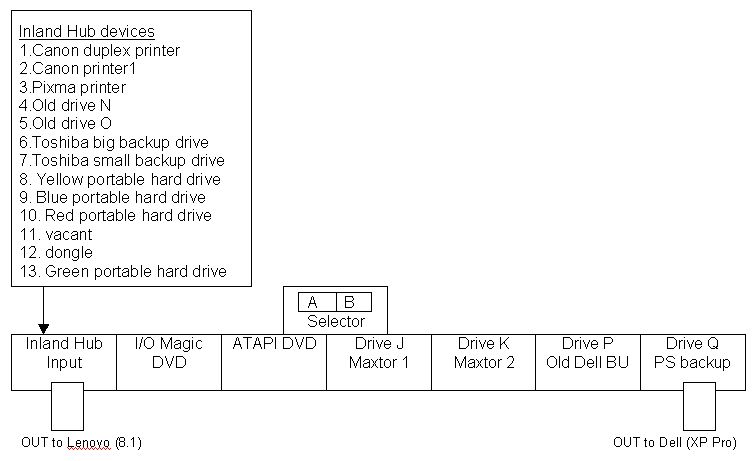 The 13-port hub is an Inland 13-Port USB 2.0 Powered Hub with AC Power Adapter. Here's a picture of it:
The other hub is about 5-6 years old, and is a GE 7-port powered hub/switcher, which allows you to choose where to direct any or all of its 7 ports via an A/B switch for
each
port. (Diagram only shows one, as a reminder.)
I am using two computers in my setup, a Dell Inspiron 530 desktop running XP Pro and a Lenovo Thinkpad P400 Touch with Windows 8.1.
When I power up the computers, it takes about 30 seconds for the Dell to "see" all the devices attached, as long as I have chosen that computer using the selector switch. If I select the Lenovo, it takes that computer about 1:15.
If I have been working for awhile on the Lenovo and then switch to the Dell, it still takes about 30 seconds for the Dell to "see" the devices. But if I should do the opposite (Dell to Lenovo) after working for awhile, it can take the Lenovo up to
three minutes
to see all the devices.
I have asked a couple of techs at a local computer store that I've shopped for years about this and neither had a solid answer. The three most logical-sounding theories were:
(1) These are cheap quality hubs and I need to drop a little bigger cash on better ones to decrease the recognition time.
(2) It's probably all due to using 2.0 devices and USB cables.
(3) Some combination of (1) and (2).
So now it's your turn. I've seen some similar questions here on E-E but they seemed to deal with hubs with fewer ports and none had any hub-to-hub setups like the one I am using.
Thanks for your time and help.