I work for a large company that has several Oracle databases. Over the past several weeks, I was able to get a successful connection to one of these Oracle DBs by setting up a User DSN data source with the credentials corporate IT provided me with, and was able to successfully link to the tables in Oracle using Microsoft Access 2007 ODBC Database, Link to Data Source.
I am now trying to connect to a second, separate Oracle database. I was, once again, able to set this up as a successful User DSN Data Source and I get a successful test connection (see image below).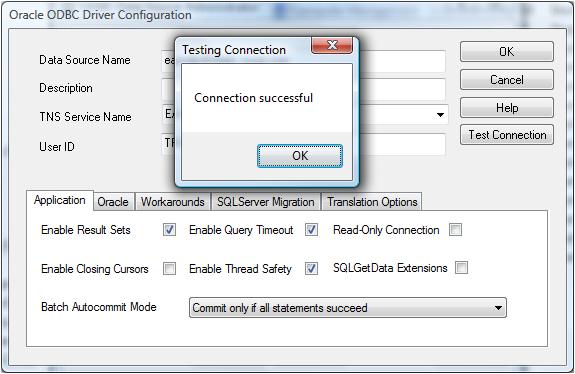 However, when I go to Access and try to link to this new DBs tables, I get the error below. I've linked to many types of databases using Access (AS/400, SQL, Oracle, etc.) and have never seen a situation where I have a successful connection in ODBC Driver Configuration but errors from within the Access application. Usually, if one works, so does the other and if one does not work then neither does the other.
I have no accessibility to the Oracle side of this. I am just trying to determine, and hopefully rule out, an Access or local PC issue before I go back to the corporate people. Can anyone shed light on what this error means? And, is there anything further I can try to resolve this before I have to get more people involved?