Hi,
I want to use this plugin Time Picker but, I am all confused of what file I have to include and
what I need to do to have this plugin time picker working on my page.
I need your help please.
I attached a picture of the example, I want to use on my page.
this is the link that provide the example:
http://wearespaces.com/plugins/jquery-timepicker/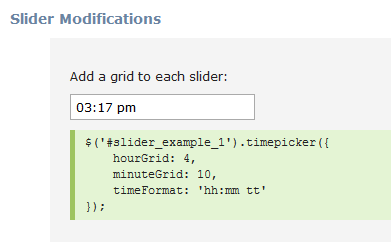 <script type="text/javascript" src="js/jquery-ui-timepicker-addon.js"></script>





<script language="javascript" type="text/javascript">




	$(document).ready(function () {





$('#slider_example_1').timepicker({




	hourGrid: 4,




	minuteGrid: 10,




	timeFormat: 'hh:mm tt'




});





});





</script>






/* css for timepicker */




.ui-timepicker-div .ui-widget-header { margin-bottom: 8px; }




.ui-timepicker-div dl { text-align: left; }




.ui-timepicker-div dl dt { height: 25px; margin-bottom: -25px; }




.ui-timepicker-div dl dd { margin: 0 10px 10px 65px; }




.ui-timepicker-div td { font-size: 90%; }




.ui-tpicker-grid-label { background: none; border: none; margin: 0; padding: 0; }





.ui-timepicker-rtl{ direction: rtl; }




.ui-timepicker-rtl dl { text-align: right; }




.ui-timepicker-rtl dl dd { margin: 0 65px 10px 10px; }








 <div>




<input type="text" name="slider_example_1" id="slider_example_1" value="" />




						</div>