3.
I need an sql query to search "wp_postmeta" table and delete all rows that has the same post_id that do not include or include partial of the following list of meta_key column:
extraship_Austria, extraship_Belarus, extraship_Belgium, extraship_Brazil, extraship_Canada




extraship_Cyprus, extraship_Czech Republic, extraship_Denmark, extraship_Estonia, extraship_Finland




extraship_France, extraship_Germany, extraship_Greece, extraship_Hungary, extraship_Iceland




extraship_India, extraship_Ireland, extraship_Israel, extraship_Italy, extraship_Latvia




extraship_Luxembourg, extraship_Malta, extraship_Monaco, extraship_Netherlands, extraship_New Zealand




extraship_Norway, extraship_Poland, extraship_Portugal, extraship_Qatar, extraship_Russia




extraship_San Marino, extraship_Spain, extraship_Sweden, extraship_Switzerland, extraship_Turkey




extraship_Ukraine, extraship_United Arab Emirates, extraship_United Kingdom, extraship_United States




extraship_Uruguay, extraship_Vatican City State (Holy See), extraship_Australia



I want to keep only post_id's that have the full list of meta_key column. It is 42 meta_key records.
Also the post_id record it is included also in wp_posts table in one row only.
I want that row also to be deleted from wp_posts table.
The column header of wp_postmeta table is "post_id" and in wp_posts table is "ID"
I don't know if this is possible but I hope it is.
Here is a big picture edited by me to make you understand the structure: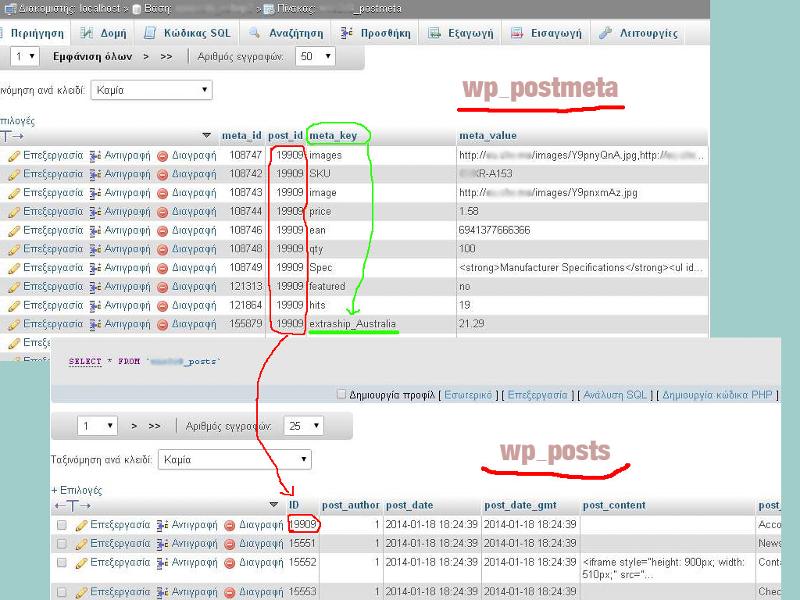 I know I'm asking a lot and sorry about this. I will try to find what I'm looking for, even with php code but I hope to find a solution here.
Thanks in advance, Nicolas...