I converted a query to a view by pasting the code from the query window into the new View window. After I clicked on the table diagram in the View window, SQL Server changed the code. The View will not execute and I get an error (see the screenshot).
I had to change the extension of the backup file to .txt in order to upload it to EE. Just change the extension back to .bu.
How do I resolve the error?
QUERY
SELECT	a.tDate




,	convert(time,a.tTime) tTime




,	Dist1		=	MAX(ISNULL( b.Object_1, 0 ))




,	Dist2		=	MAX(ISNULL( b.Object_1, 0 ))




,	Dist3		=	MAX(ISNULL( b.Object_3, 0 ))




FROM	tblTimes	a




JOIN	tblObjects	b	ON	a.TimeID = b.TimeID




JOIN	tblDurations	c	ON	b.DurationID = c.DurationID 




GROUP BY a.tDate,convert(time,a.tTime)



VIEW
SELECT     a.tDate, CONVERT(time, a.tTime) AS tTime, MAX(ISNULL(b.Object_1, 0)) AS Dist1, MAX(ISNULL(b.Object_1, 0)) AS Dist2, MAX(ISNULL(b.Object_3, 0)) AS Dist3




FROM         dbo.tblTimes AS a INNER JOIN




                      dbo.tblObjects AS b ON a.TimeID = b.TimeID INNER JOIN




                      dbo.tblDurations AS c ON b.DurationID = c.DurationID




GROUP BY a.tDate, CONVERT(time, a.tTime)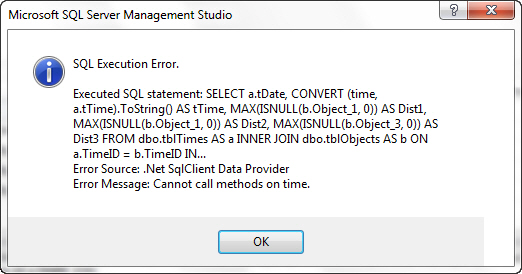 bu.txt