Hello,
I have added an SMTP server feature to my 2008 Server (R2). I have a virtual network (Oracle Virtual Box) created where i have 3 VM's; 1 2008 r2 server as the Domain Controller, DNS and SMTP server, 1 windows 7 machine running the MS Live mail client and another 2008 server running SQL. The domain I have created is called melega.loc and all IP's adresses have been statically assignefd. No firewall enabled on any of the systems and each system can succesfully ping the other. The problem is that when I confgiure the Windows Live email client with the account administrator@melega.loc and then click on the Send\Receive icon and I continually get returned;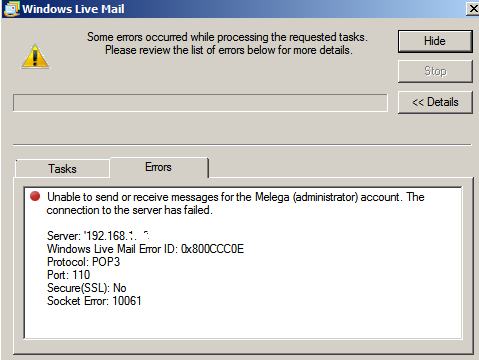 The account is a domain admin account. Somehow, I feel I am missing a step. Do I need to create an email account on the SMTP Server for use with the Windows Live client?
As mentioned, no firewalls or other security implementation that would get in the way.
Any help is greatly appreciated, this is maddening. I have even tried installing Windows Live Mail client on the same server as where SMTP is running and get the same error!
Charlie