Hi
I'm trying to send the data from MSHFlexgrid1 and MSHFlexgrid2 into MSHFlexgrid3, but without duplications.
The duplication records are based on Column1, Column2 and Column3 of MSHFlexgrid 1 and 2.
I only want to send a single records of each combinations.
i can also have a multiple rows of data in each grid.
In below picture, you will see an example of MSHFlexgrid1 and 2 data, and what it should look like after the macro ran in MSHFlexgrid3.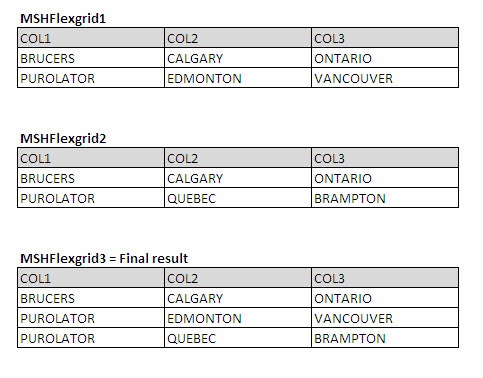 Can you please help me?
what i have so far is this below:
Dim i As Integer





    For i = 0 To MSHFlexGrid1.Rows - 1





        If MSHFlexGrid1.TextMatrix(i, 0) <> "" Then





            MSHFlexGrid3.TextMatrix(i + 1, 0) = MSHFlexGrid1.TextMatrix(i, 0)




            MSHFlexGrid3.TextMatrix(i + 1, 1) = MSHFlexGrid1.TextMatrix(i, 1)




            MSHFlexGrid3.TextMatrix(i + 1, 2) = MSHFlexGrid1.TextMatrix(i, 2)




            MSHFlexGrid3.Rows = MSHFlexGrid3.Rows + 1




        End If




    Next i



Thanks for your help