I am attempting to perform an "in-place" upgrade an instance of SQL Express 2008 R2 too SQL Server Standard R2 (both 64 bit) and I am installing 2008 Standard from an ISO that does not require a license key since we have a Microsoft "Enterprise Agreement" allowing us access to the volume license site and these special "no key required ISO's".
I am mentioning this because it means I cannot upgrade through "SQL Server Installation Center" choosing the "upgrade SQL edition" option or whatever it's called as that calls for a product key which I do not have or need.
When I run through the installer I pass all tests and get no errors, but when I get to the "select features" screen, I run into the following 2 images and am forced to cancel out of the installation.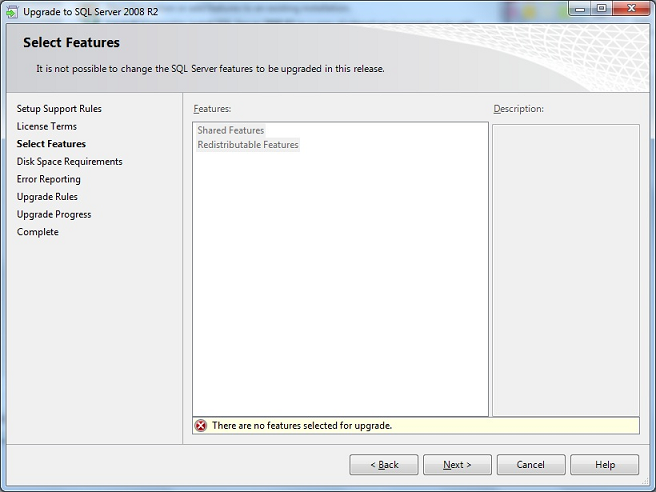 Now for a little background, I had originally downloaded the incorrect ISO's from Microsoft's volume license site on a couple different occasions and attempted to do this very upgrade with just the SQL 2008 R2 service pack 2 ISO about 5 times and had to cancel out every time obviously because it would say there were obviously no components to upgrade (finally figured out I have wrong installer). Then I tried about 4 different times using the "SQL Server Installation Server" where you simply upgrade your edition by entering a product key but had to cancel out every time due to not having a valid license key (In my trial and error phase).
Unfortunately this appears to have made about 10 folders in the %ProgramFiles%\Microsoft SQL Server\100\Setup Bootstrap\LOG\ directory as is mentioned in this KB from Microsoft which I am not certain I understand:
http://support.microsoft.com/kb/955399
So to sum up, I have never had an installation complete with errors, I just have 10 aborted installations due to no product key or trying the wrong installation ISO to begin with, neither letting me get very far at all in the installation process. I have since found the correct installer ISO and am getting further than ever but can't get past the "select features" window I showed above.
I am messing with SQL for the first time ever here and it's in a production environment so I would really like to keep it as simple as possible to not risk screwing up any existing config options, which is why I am trying to do the in-place upgrade. I would really appreciate any suggestions or if anyone can clarify that KB above, maybe it actually would get me past the issue I am experiencing? Thanks!