I have a windows 2008 r2 server joined to the domain that does not allow any shares.
* I can RDP into the server with no issues.
* I am a domain admin
* Domain admin is listed in the local admins group on the server
* I have access to all shares on the server.
* I can not get to the C$ share or any other shares on that server and all permissions are set.
* Firewall has been turned off
* File and Print Services are enabled and running
I looked at a share and this was the advanced settings that were set: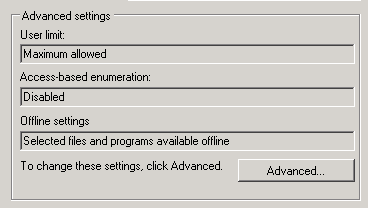 Any help would be greatly appreciated! Thanks!