I am trying to run a very useful utility I wrote myself in Visual Basic 6 many years ago
with a Windows 7 Pro 64-bit installation.
Under Windows XP first you start the PowerPCB executable, then upon loading the main form the VB6 program 'MainBoard_Client.exe' connects to the PADS COM Type Library, which accessible to other programs while PowerPCB is running.
PADS COM Type Library is included in the main executable file 'powerpcb.exe'. See visual basic reference to the library, with the VB6 IDE under Windows XP, from VB6 IDE: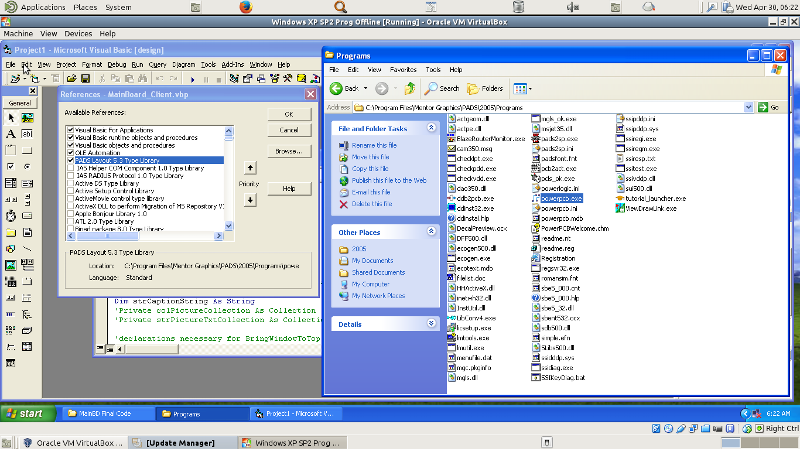 It is also visible in the Microsoft ComView utility as a registered component, under Windows XP, and the program fully communicates with the COM server, of course: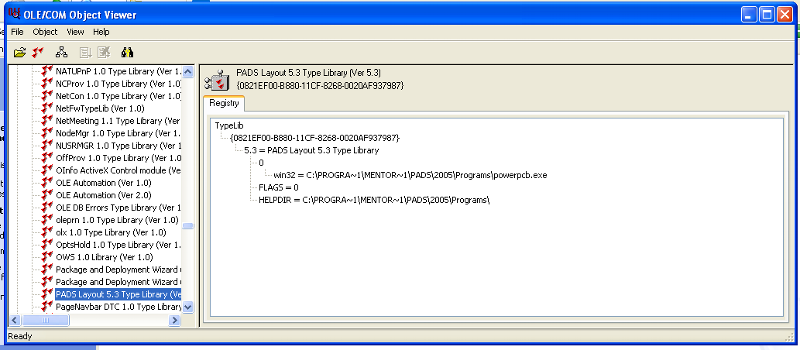 Now, I only want to transfer and run this program under Windows 7 Pro 64-bit, and to be able to run a VB6 program at all, I had to copy 3 required ocx files to c:\Windows\SysWOW64\ and executed the following to register components commands under Windows 7 Pro 64:
regsvr32 c:\Windows\SysWOW64\comdlg
32.ocx
regsvr32 c:\windows\SysWOW64\MSCOMC
T2.OCX
regsvr32 c:\windows\SysWOW64\mscomc
t2.ocx
Which worked fine, got the dialog that registration of components was successful.
I can also verify, using ComView that the COM Server for PowerPCB was successfully
installed in Windows 7: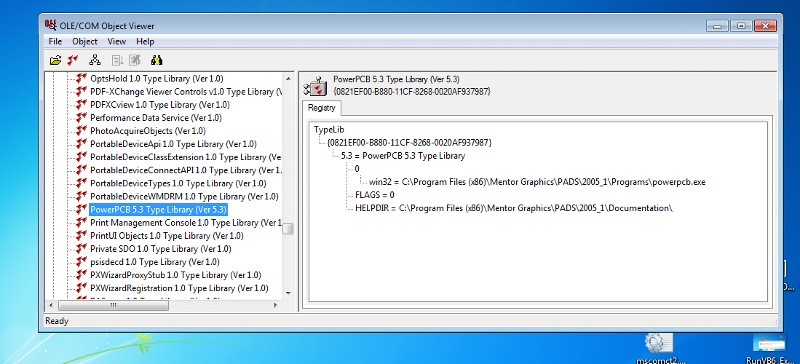 BUT! The 2 programs still will not connect with COM.
What else is missing here under Windows 7?
This is the simple form load procedure in the VB6 program that is supposed to connect to the COM server:
Private Sub Form_Load()





Dim view As Object





' extablish connection of client with PCB





On Error GoTo NoPCBStarted





 ' Connect to a running instance of PowerPCB server




    Set powerPCBApp = GetObject(, "PowerPCB.Application")




    Set powerPCBDoc = powerPCBApp.ActiveDocument





If CheckPCBVersion() = False Then




MsgBox "This software requires 'PADS Layout v. 5.3' or later. Some functions may not work with your currently loaded version of " & _




powerPCBApp.Version, vbInformation




End If





'zoom to full board view




Set view = powerPCBDoc.ActiveView




view.SetExtentsToBoard




Set view = Nothing





' clear all selections in PCB




powerPCBDoc.SelectObjects ppcbObjectTypeAll, "*", False





' bring up client as the active application in




' normal state on the desktop




AppActivate "MainBoard_Client"




Me.WindowState = vbNormal





Exit Sub





NoPCBStarted:





MsgBox "Unable to connect to PowerPCB", vbCritical





End





End Sub



And if this procedure starts, with PowerPCB.exe already running, I will just get me to
the exceptions part of the program immediately:
"Unable to connect to PowerPCB"
What is happening here? Is there another missing component under Windows 7?