Hello,
I recently exported my blog posts from my Wordpress site (running the latest version and using the default Wordpress importer/exporter) and imported it on a new site I've set up locally. Everything seems fine however, when I try to edit a post or add a post, all of my categories appear to be invisible in my category list. The categories definitely still exist as I can see them on the Categories page (and in my database for that matter) but not on an add/edit post page.
Additionally, even though my posts appear to have still kept their categories from my old site (I can still see the appropriate categories checked off), nothing is showing up on the front end of my site.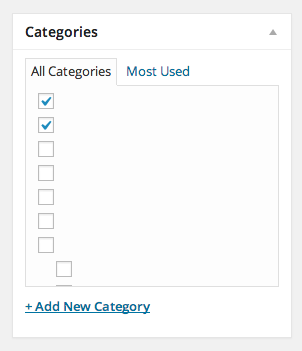 Really have no idea where to begin troubleshooting this. I've tried creating new sites, importing/exporting a bunch of times, etc. Any help would be extremely helpful! Thanks.