Hey Guys -
A couple of days ago, I ran into a strange error that has been bugging me like crazy.  When I try to do certain tasks with the file system, I get a pop-up error titled "Item Not Found" (below).  The strange thing is that once I click "Try Again", it works as it should have in the first place - every time!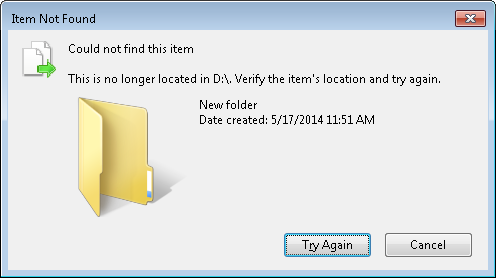 I've never run into this before, but have had difficulty finding a solution online due to it's strange behavior.
When it Happens
- Below are some specific scenarios when I run into it:
 -
Creating a new folder
(via explorer) - I create a new one, enter name, get error, click try again, and it works.  If I cancel on error, it still creates folder, but as default name ("New Folder")
-
Moving Files
- I seem to get the prompt for each folder (& sub-folder if included) which I'm moving
-
Extracting files
- Guess it's the same as above as unzipping moves it's data from a cache location to where you want it.  Get an error per folder still
Other Strange Behavior
-
Windows aren't refreshing instantly all the time
- I sometimes must hit F5 after moving file from a folder to see it's gone.  Occurs ~ 30% of the time
-
It occurs on all partitions and in all locations
What I've Tried to Fix
-
Restarted Computer :)
-
Examined Windows Log Files
- Nothing appeared out of the ordinary at all.  Only Critical ones.  
-
Ran CHKDSK
- When restarting yesterday, it did run a chkdsk during boot on the pool partition, but believe it came up clean.  I had just added a drive to the pool so considered it normal.  This issue occurred before adding it to the pool, though
System Details
- Windows 7 x64 - Fully Patched
- Intel i7 / 16gb RAM
- x1 55gb SSD (OS Only)
- x6 HDDs in 20tb Pool (Using Drive Bender)
- x1 2tb HDD outside of pool for app caches & other stuff I don't want pooled
Any Ideas?  I"ll be happy to submit any other info if needed - Thanks!