Hi Experts! I have a timekeeping database that I modified in Access that has a category and a subcategory. The goal is to automatically update the subcategory dropdown list when a user updates the category list to only display the subcategory contents that apply to the parent category value. An example is when I put in 'Admin' in the category, I only want to see things like Sick Leave or Out of Office.
I found a way to do this, but when it does it also hides the values in the subcategory field for other categories that are on the list. It looks like this: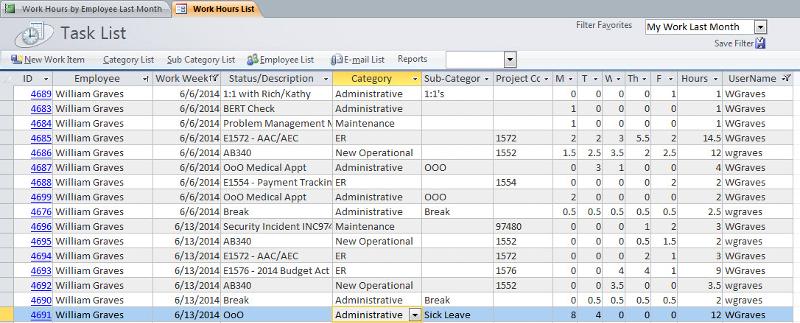 Here's the VB code:
Private Sub Work_Code_AfterUpdate()
On Error Resume Next
Me.[Effort Type].RowSource = "Select [Effort Type].ID,[Effort Type].Description " & _
"FROM [Effort Type] " & _
"Where [Effort Type].Parent = " & [Work Code].Value
End Sub
so in this case, Work Code is the parent called Category and Effort Type is subcategory.
So my question is, how do I make it so that it only updates the one row?
Your help is greatly appreciated!