Hi Experts,
I am trying to build a simple SSIS package that loops through subfolders within a Folder. Now there can be many ways of doing that but my intention is to use ForEach Loop Container that uses ForEach Item Enumerator.
Let me explain how !
Below is my simple package. Please note the two variables, objFolder and srcFilePath.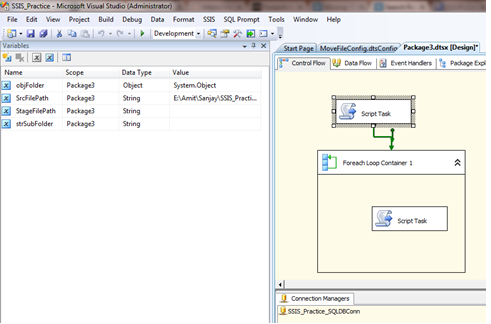 The first step is to access the Source Folder (Folder specified by srcFilePath) and create a collection of SubFolders. This is done within the Script folder using this simple statement:
// Step 1 - Get the Source Folder Name 




_strFilePathName = (String)Dts.Variables["SrcFilePath"].Value;




Dts.Variables["objFolder"].Value = Directory.GetDirectories(_strFilePathName, "*", SearchOption.AllDirectories);



Till here there's no issue.
Now I want to use a ForEach Loop Container that uses ForEach Item Enumerator and iterate through the objFolder collection. I have spent many hours reading through material on the Internet but I haven't got a single link that tells me how to use the collection variable to be assigned within the ForEach container. Can someone please point me in the correct direction. Given below is the screenshot of the foreach I need to configure.