I have attached an Excel workbook that I would like to have two short columns summed (EAST AND WEST).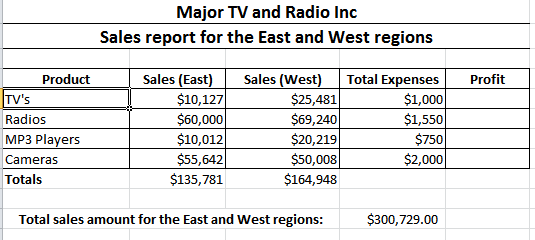 Here is a picture in case you don't want to open the actual workbook.
What is the most efficient way to code this.
I used this and it worked but I suspect there might be a more efficient way.
Option Explicit





Dim SalesEast As Currency




Dim SalesWest As Currency




Dim Sum As Currency




Dim CustomerName As String




Dim Price As Currency




Dim OrderDate As Date






Sub UsingOperators()





    




    Range("b9").Activate




    ActiveCell.FormulaR1C1 = "=sum(r[-4]c:r[-1]c)"




    Range("c9").Activate




    ActiveCell.FormulaR1C1 = "=sum(r[-4]c:r[-1]c)"




    




    SalesEast = Cells(9, 2).Value




    SalesWest = Cells(9, 3).Value




    Sum = SalesEast + SalesWest




    Cells(11, 4).Value = Sum






End Sub



question.xlsm