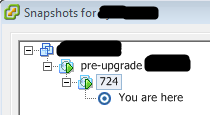 I have a VM that has two snapshots and the base image (see picture)
I need to remove all of the snapshots in order for Veeam to back up the VM (since it doesn't want VMs to have snapshots).
How can I make my current snapshot (titled: 724) the base image? .... meaning, it will become the primary image and there won't be any snapshots listed?