I have set up an IP Phone LAB inGNS3 and VMworkstation. I installed IP communicator software on a couple of VMs, and configured IP Phones on the Router using Command Line and everything worked fine.
Now I want to do the configuration from Scratch on the GUI , instead of Command line.
So I did part of the configuration with CLI, just enough to bring the CME GUI on internet explorer. However if I make any changes , such as setting maximum IP phones and click Set it prompts me to save changes, I do so, but nothing happens on the router configuration file when I run show run.
If I try to add phone from GUI, I receive a message "No free phone sequence number"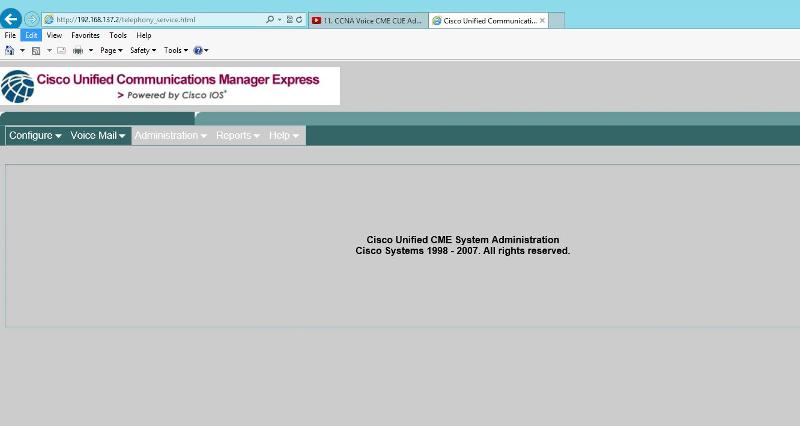 The CLI configuration is as displayed below:
R7#sh run




Building configuration...





Current configuration : 1088 bytes




!




version 12.4




service timestamps debug datetime msec




service timestamps log datetime msec




no service password-encryption




!




hostname R7




!




boot-start-marker




boot-end-marker




!




!




no aaa new-model




memory-size iomem 5




no ip icmp rate-limit unreachable




ip cef




!




!




no ip dhcp use vrf connected




ip dhcp excluded-address 192.168.137.1 192.168.137.5




!




ip dhcp pool MyPool




   network 192.168.137.0 255.255.255.0




   option 150 ip 192.168.137.2




   default-router 192.168.137.2




!




!




no ip domain lookup




 !




ip tcp synwait-time 5




 !




interface FastEthernet0/0




 ip address 192.168.137.2 255.255.255.0




 duplex auto




 speed auto




!




interface FastEthernet0/1




 no ip address




 shutdown




 duplex auto




 speed auto




!




!




!




!




ip http server




no ip http secure-server




ip http path flash:




 !




control-plane




 !




telephony-service




 max-conferences 4 gain -6




 dn-webedit




 time-webedit




!




!




line con 0




 exec-timeout 0 0




 privilege level 15




 logging synchronous




line aux 0




 exec-timeout 0 0




 privilege level 15




 logging synchronous




line vty 0 4




 login




!




!




end





R7#