Unable to use extra disk space on my cluster shared volume (CSV) after extending.
Setup:
EMC storage: VNXe3150
6 physical servers configured in a Hyper-V 2012 R2 cluster
connected to the storage through iSCSI
CSV is formatted with REFS
Events leading up to the issue:
CSV initially was 1 TB
I was copying data to one of the VMs (using robocopy)
more data then I expected
I had assigned more space to the VM then was actually available
During the robocopy process, suddenly all VMs on the cluster grinded to a halt
My response:
* Increased LUN size on EMC from 1024GB to 1950GB
* Sorted out which hyper-v host was in control of the CSV
* RDPed to that particular hyper-v host
* Opened an elevated CMD
* started 'diskpart':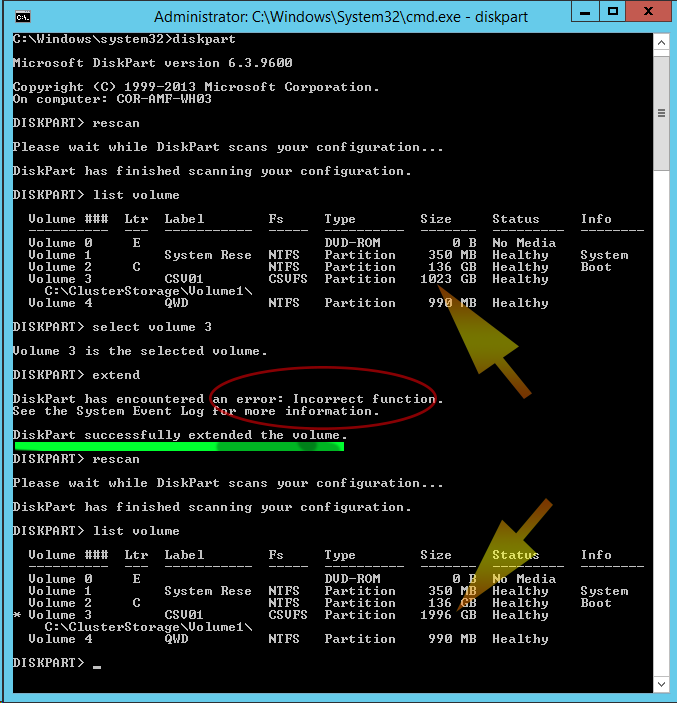 As you can see, I tried to 'extend' the volume. Executing the extend command returned an error but also reported a successfully extended volume.
The best way to explain the current problem is by a screen shot of windows disk manager: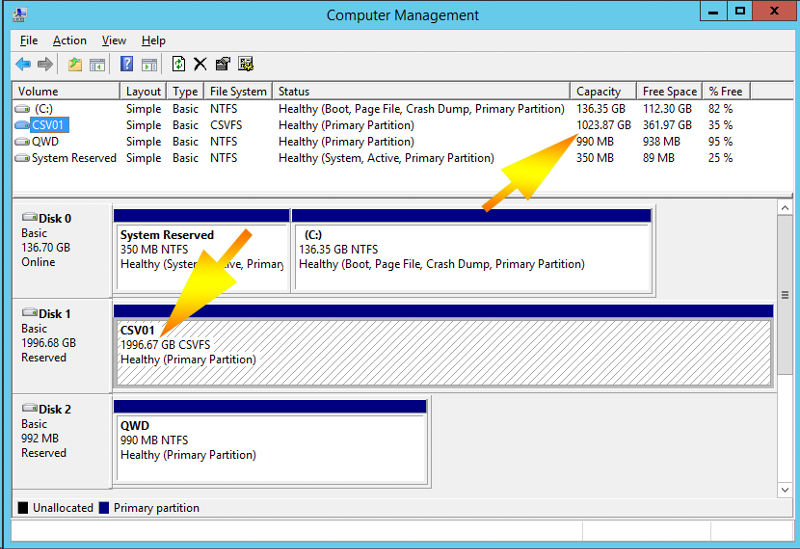 Judging from the information in the top panel, the capacity of the volume is still the old size of 1023.87 GB
But the bottom panel shows a disk and volume size of 1996.67 GB
Most importantly the newly claimed disk space is assigned from the storage but unavailable to servers on the cluster!
Fortunately the data on CSV (Hyper-V disk images) is still accessible. So no data has been lost (yet).
Tried (but failed) so far:
Chkdsk /scan (finds nothing wrong)
Chkdsk /fix
Defrag
Repeating the diskpart process (reports not enough space available to extend)
shrink volume (unrecognized FS error, threatened to remove all data when proceeding)
Re-attaching in iSCSI initiator
Re-scan in disk manager
PLAN B:
If I'm unable to 'fix' the problem within the next few hours I'll be forced to take these (time consuming) steps:
* backup data from CSV
* Destroy current volume
* Re-create larger volume
* Restore data
* resume migration
Circumstances / considerations:
* Not enough space on local media at the customer to backup the CSV data
* Customer is a high school of with 2000 students (end-users)
* Their holiday ends and school starts within next 4 days (no pressure)
Does anybody have an alternative suggestion to my plan B?
Thank you in advance!