Hi,
I recently installed a Windows 2012R2 Server on a Power edge T620 with HyperV role.
There are 2 network cards available on the physical server. One intel Gigabit I350-t LOM with 2 ports and the second is the same with 4 ports.
The HyperV is on the network via the NIC1 form the first Nic, with a fixed IP.

Then, I have configured a NIC Teaming on the server. The team is for external access of VM. SLOT port 3 and port 4 from the second NIC are member of this team.
In additional properties: Teaming mode: Switch independent – Load balancing mode: Hyper-V Port – Standby adapter: None (all adapters Active)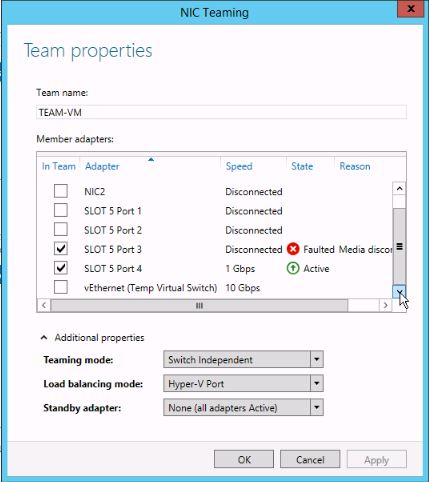 Then, I have created a Virtual switch for external access, which refer to the NIC TEAM.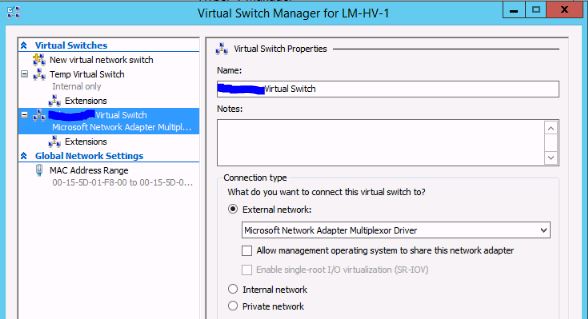 Finally, in the settings of VM, the network adapter was set on the created virtual switch.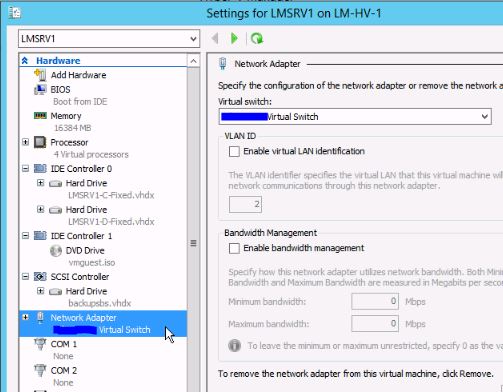 Connexion to LAN and WAN are working from HyperV and from VM.
In the beginning, I was thinking that all was working properly.
However, if I wait about 2 minutes, the networks speed for
external access
, I mean for WAN, will become very very slow.
For example, a ping to google.com will answer with a time of 1500-2000ms…
- If I unplug the second cable of the Nic team AND the cable of the HyperV, then, the network speed is ok…
- If I plug again a cable from the Nic1, or the second cable from the team, it will work normally for 2 minutes, and then the speed will go down again…
The topology of the network is simple :
Physical Hyper-V is connected to a 24P switch.
The switch is connected to a Firewall.
Firewall is connected to Router/modem.
It seems that only one cable can be connected to the switch from the physical server, otherwise the speed for WAN is going bad.
I hope someone can help me or have already experienced this..
Thank you very much.