We're running Sharepoint 3.0 on the server and Office 2010 Professional Plus on the workstations.
On all but one workstation, you can navigate the intranet site, click a link for an Excel document, and it brings up a prompt saying "You are about to open.... How would you like to open this file: Read-Only or Edit"
On ONE computer, it does not give this option at all, but instead opens it automatically in Read-Only mode. The user can then click the Edit Workbook button in the ribbon bar near the top to edit. The user with the different Excel behavior has the same permissions to the file as everyone else. He cannot remember to push the Edit Workbook button before he starts editing the workbook, and it apparently causes him to lose work. We need to fix it, to give him the prompt on how to open the document. I've searched around Google and haven't found
Here is how it's supposed to look when you press the link: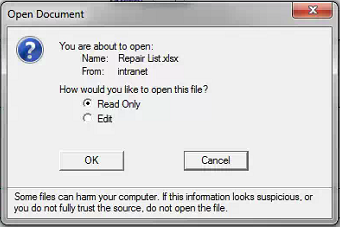 Instead it skips the prompt and goes straight to read-only:

Any suggestions will be greatly appreciated.