Hello Experts,
I have below questions related to storage adapter.
1). What is Devices and Paths in storage adapter details? I see compelnt Fibre channel disk (I think it got generated automatically) , what is this?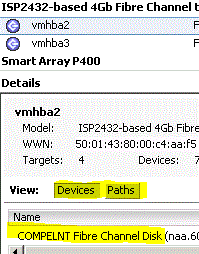 2). When I try to add the Lun to make VMware it shows the location /vmfs/devices/disks/naa.60
00........
.
what is this path , and where it will be?

Please help me in understanding the above questions.
Thanks,
-Prashant Girennavar.