I've been getting around this type of issue with script instead of handling it with the initial query, and I was wondering how best to approach it from a SQL perspective.
Using this table as an example,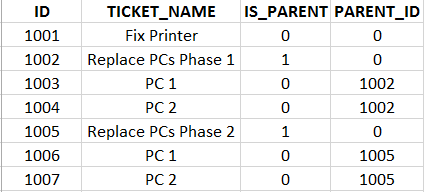 How would I design a query to select any ticket names that are like ('Replace PCs%' and IS_PARENT='1') as well as any ticket that has the PARENT_ID of the previously selected tickets? So, basically, how do I return an array containing both parent and children tickets related to a specific ticket name pattern? I would need the array to hold all fields related to the selected records. Thanks for reading.