Comcast Business service is now saying my network is the issue. Trying to get a handle on whether I am doing this all wrong, all right or somewhere in between.
We are hosting multiple VMs for different clients on a Dell server with 6 NICS, and another Dell server with 4 NICS. We have one Cat5e going from the Comcast Modem to an unmanaged 24 port switch. Multiple Cat5e spin out of the switch going separate routers which then plug into the NICS on the servers.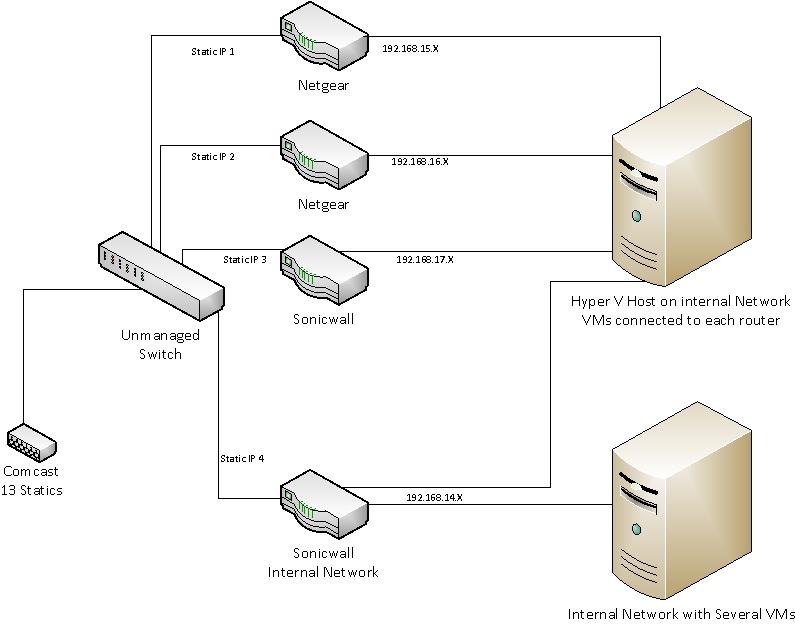 We have the NICs on the servers set to use DHCP from their respective router to get an address and then the VM that is attached to that NIC has a static set on it at the .2 address.
The top server has a network connection to our internal router so the Hosting machine can be managed internally from our own network. The bottom server is for running all of our own internal VMs which all participate in the same domained network.
Is this setup correct? The basic issue we are seeing that we've blamed comcast for is that all routers will lose their connection at least once a day for about 3-4 minutes all at the same time. We've plugged a laptop into the comcast modem and it experiences the same behaviour. Comcast states that their box is running cleanly yet it appears that all connections drop and I'm staritng to wonder if a DNS issue doesn't exist that could be causing the issues.
Any thoughts would be greatly appreciated.