My wife is being asked to come up with a "Prayer Partner" list, containing 12 women, who pray over the course of 11 weeks, each one partnered with the other only once. Person 1 is the "Leader" of the group. I have matched Person 1 to each person in the group once. Row 1 has the prayer partner. Column 3 starts the matching at Row 2 (first week):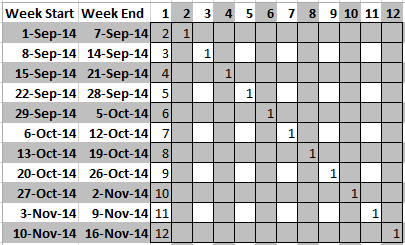 I cannot figure out a way to complete the pattern. Basically, if Person 1 is assigned to pray with person 2 in week 1, person 2 needs to be assigned to person 1 in week 1, and so forth. In the above, I have person 1 assigned to each prayer partner in turn, and consequently, each person assigned to person 1 in the appropriate week.
Will someone please help me?
DrU