I have a Microsoft Surface 2 tablet, which runs Windows RT. It was orginally brough as a test unit for mobile workers. We tested for 2 months, just setting up email, using Office 365 etc. Then due to other project, we put it in a cupboard, in a working state, and forgot about it for 3 months. Yesteday I got it back out to do some more testing, and found when I plugged in the charger & powered it up, it gave an error: "PAGE_FAULT_IN_NONPAGED_AR
EA". Not sure why/how, as it was working when it went into the cupboard, nothing was installed inbetween then and yesterday.
I tried a few things, and performed a Refresh,w hch didn't help, and then a reset as per this link:
http://www.microsoft.com/surface/en-gb/support/warranty-service-and-recovery/refresh-or-reset-surface
. However, it now doesn't boot into Windows at all, it either sites at the black & white 'Surface' loading screen, and does nothing (left like this for 4 hrs)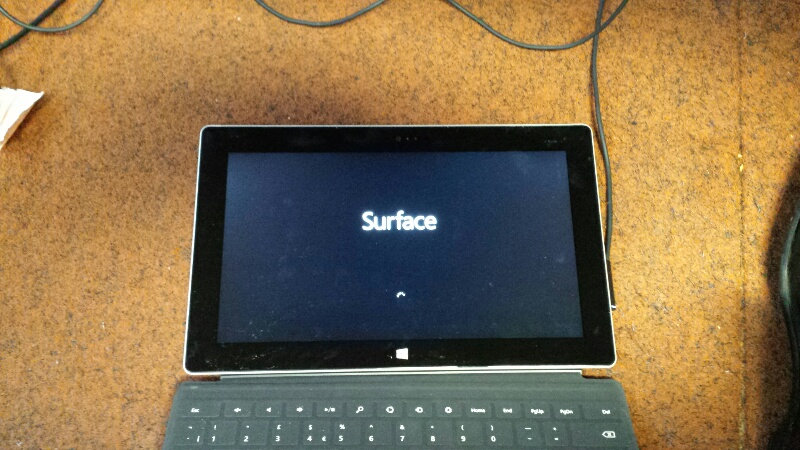 Or when you then reboot, it goes into the 'Preparing Automatic Repair/Diagnosing your PC' screen, where you can select to reboot, refresh, reset, troubleshoot - Start-up Repair doesn't work - or recover from hard disk or USB. However, I don't have a USB recovery stick or any other recovery media (didn't think to make one when we first got it, and you can't make it once it's failed). How can I perform a recovery?
Additionally, it appears the unit won't charge. I can only switch it on with the charging cable connected. If I remove this while it's booting, it just powers stright off. I've left it on charge for 8hrs over night, came in, and it won't switch on without the power cable connected.
Not sure if there is anything else I can do, maybe just return it as a failed unit?